Crafting Beautiful Residential Landscapes: Transforming Your Home with Expertise and Dedication
Welcome to our Residential Landscape Services page. Our dedicated landscape team is committed to perfection, delivering exceptional results for projects of any size. From customized designs and expert plant selection to hardscape construction, we transform outdoor spaces into stunning landscapes that enhance your home. With a focus on customer satisfaction, our goal is to exceed your expectations and create a residential landscape that will bring you joy for years to come and enhance the beauty of your property.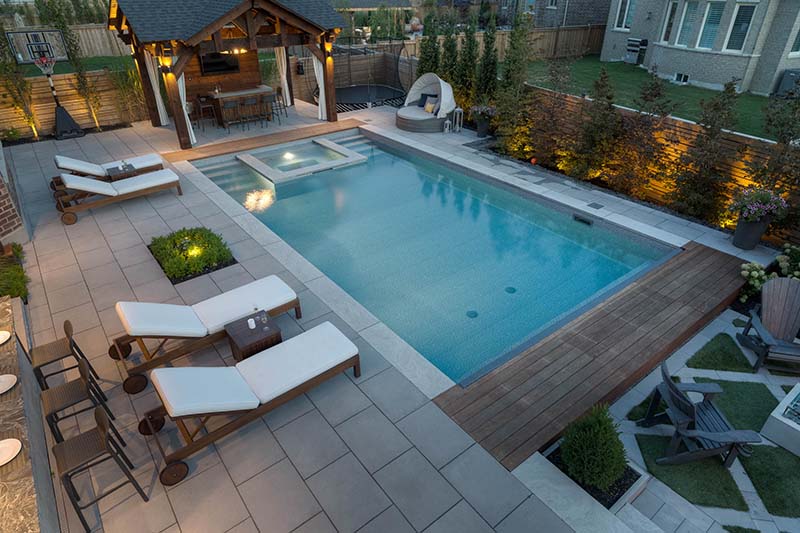 Pools & Spas
What are the benefits of adding a pool to your backyard? Adds value to your property, you will never have to leave your home and cool off again, great for entertaining, lasting memories, great way to relax. Should we go on? NCLC are experts in constructing concrete pools, so whether you are looking at something as simple as a spa or something more intricate like an infinity edge pool, let us build it for you.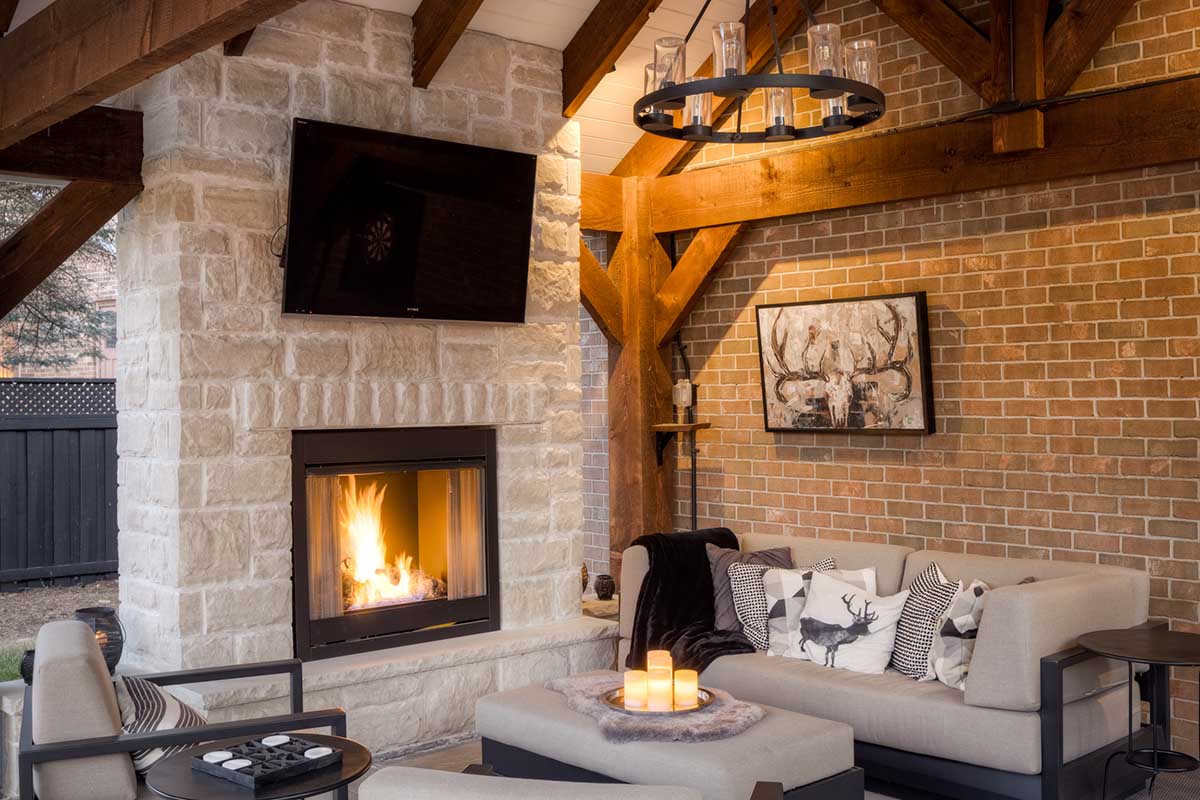 Feature Walls & Fireplaces
The addition of a feature wall and or fireplace to your backyard increases the aesthetic appeal of the space and completes the overall look. You can never go wrong with adding these features.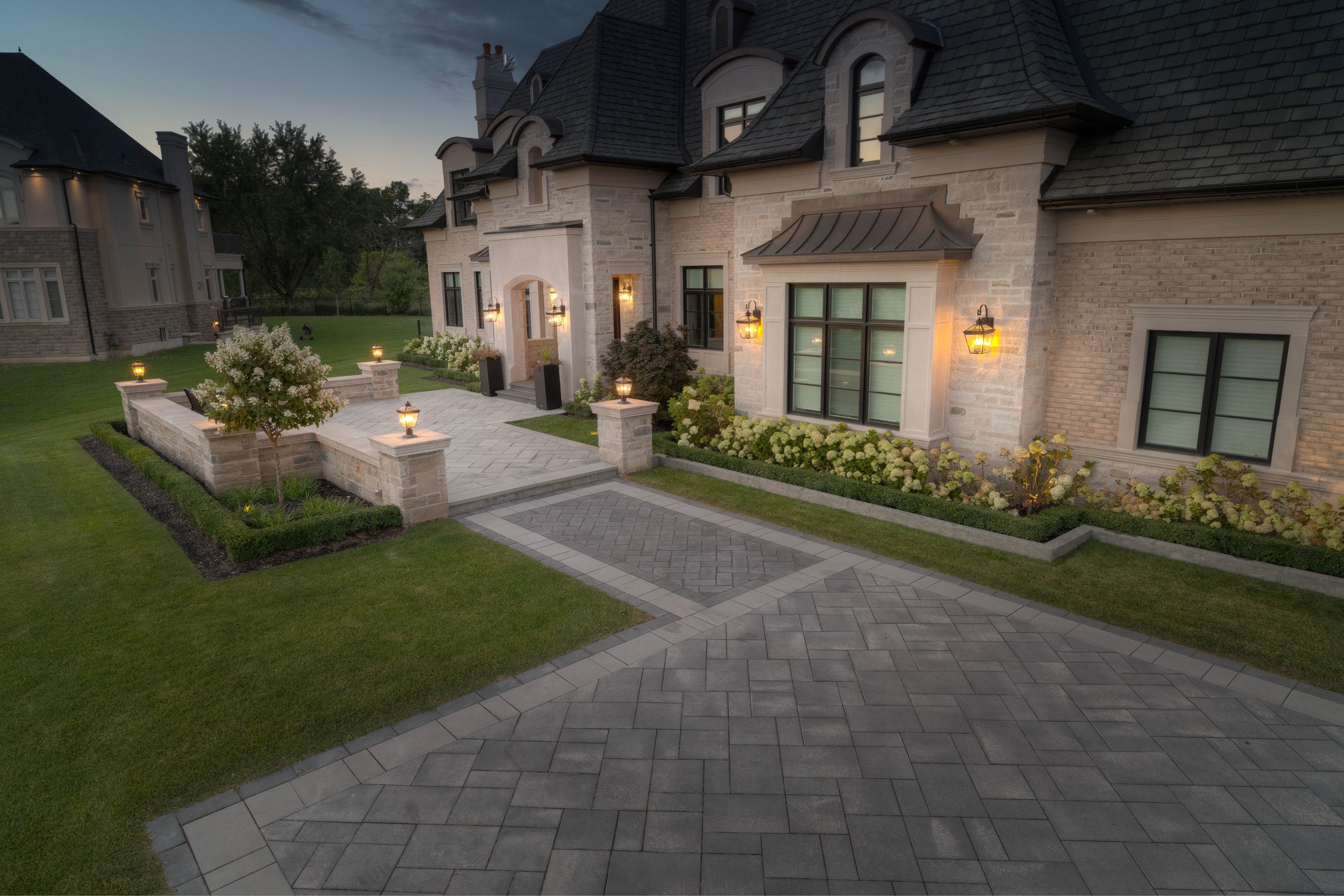 Interlock
There are remarkable benefits of using interlock! We only use the highest quality materials to ensure durability. From driveways to pavers, walkways to patios, this versatile material will make any space look amazing.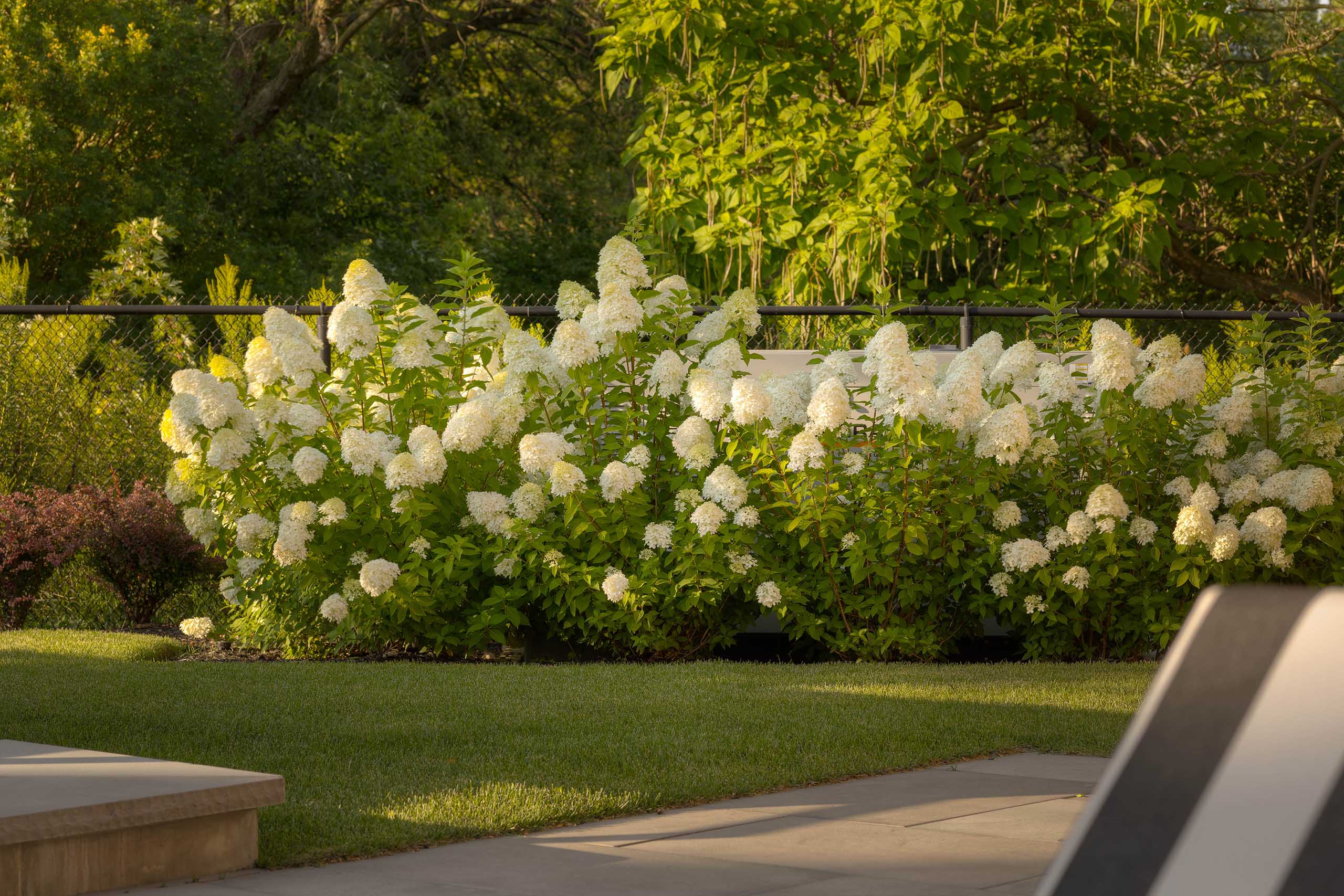 Planting
Plant materials will soften any outdoor space and can provide privacy and shade if needed. Adding greenery will only enhance the beauty of your home.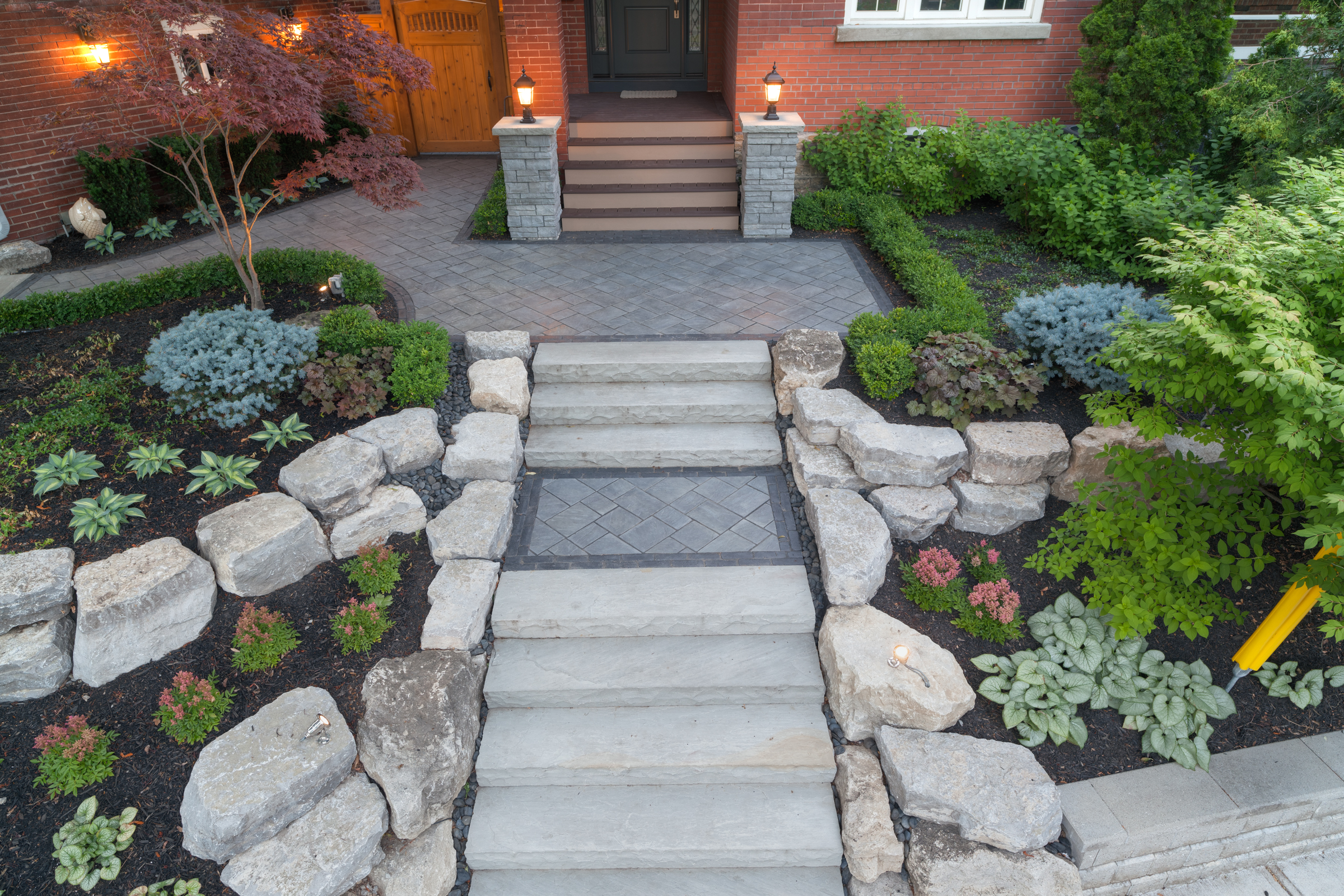 Armour Stone
The use for Armour stone is plenty. Walls, steps, water features, garden accents, pool borders and more. When installed properly, bigger sized stones can act as retaining walls without the need for mortar, creating a rustic feel and can act as a beautiful focal point, in your front or backyard.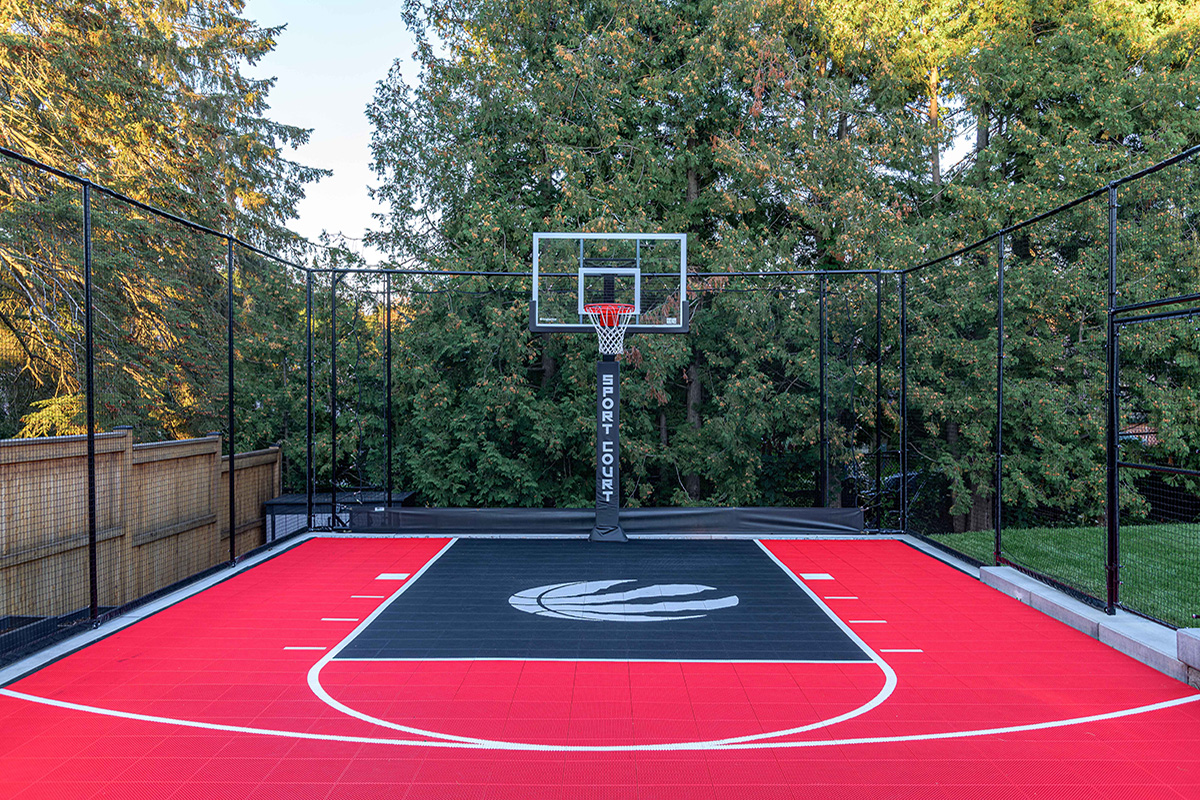 Sport Courts & Putting Greens
Turn your backyard into the ultimate entertainment destination by adding a sports court or putting green. Family and friends of all ages will enjoy these outdoor activities!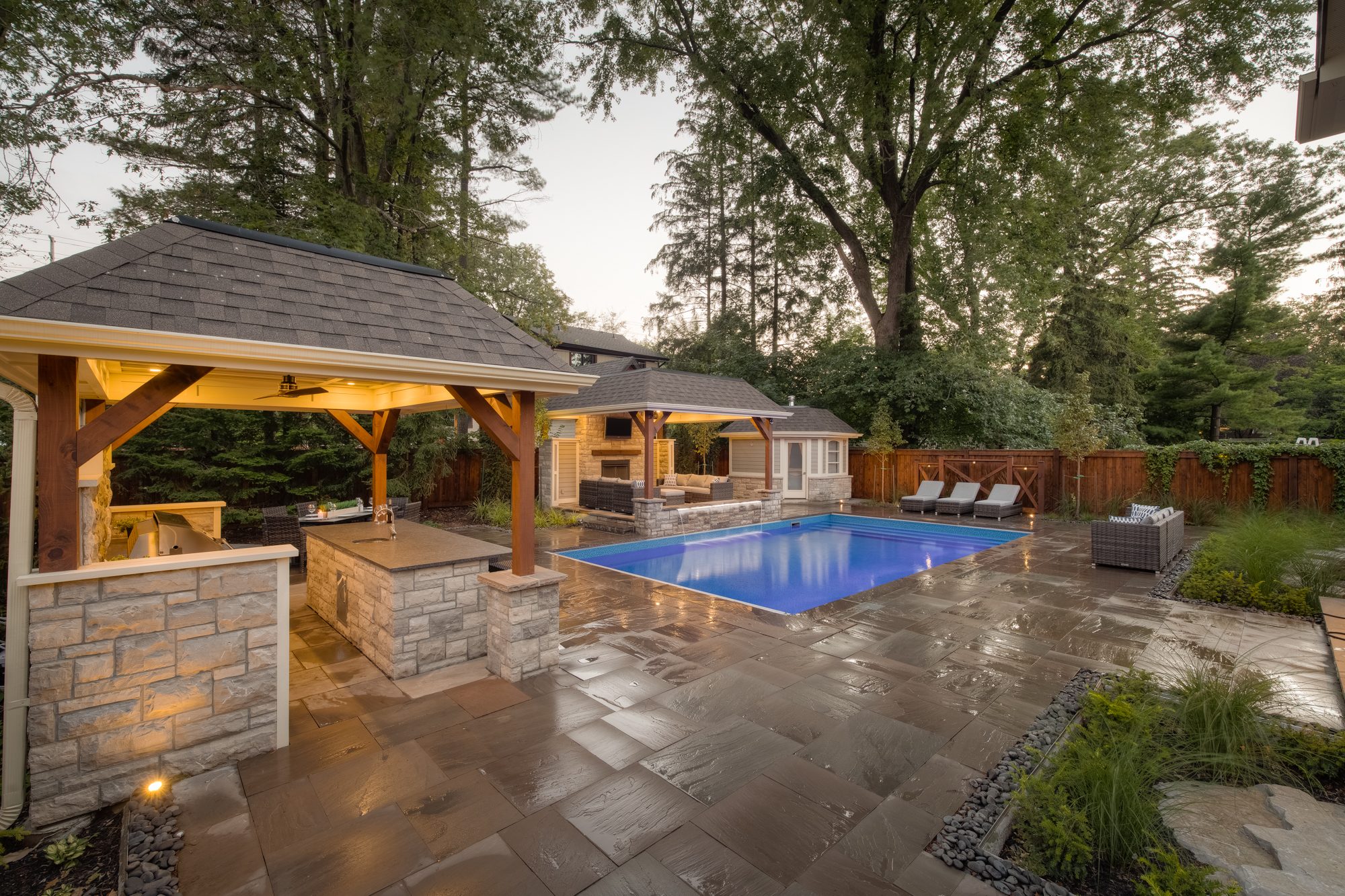 Flagstone
There is a wide selection of natural cut stone to choose from and therefore using flagstone is a fantastic way of standing out from the rest and showcasing your own individual style. This material is both timeless and luxurious.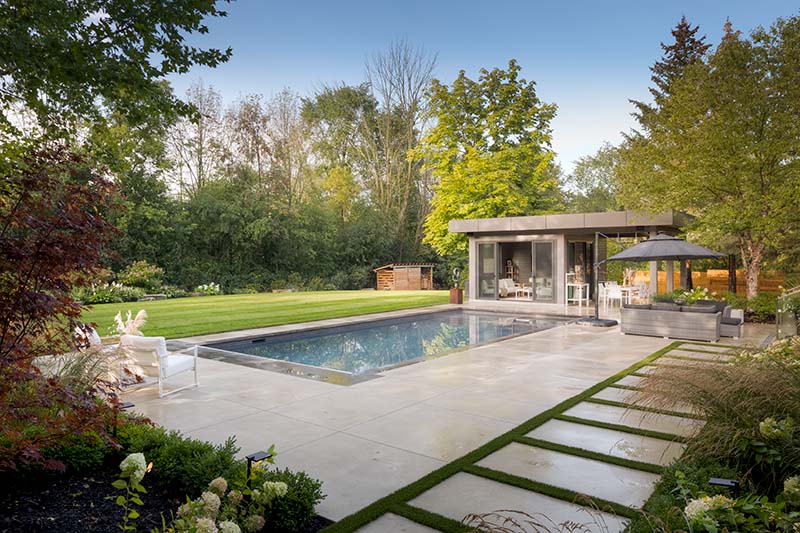 Concrete
Enhance your outdoor space with minimal maintenance concrete treatments. Pick from limestone finish, coloured concrete, stamped concrete, the design options are endless! Concrete is not what it used to be, you will be amazed at how un-concrete concrete can look.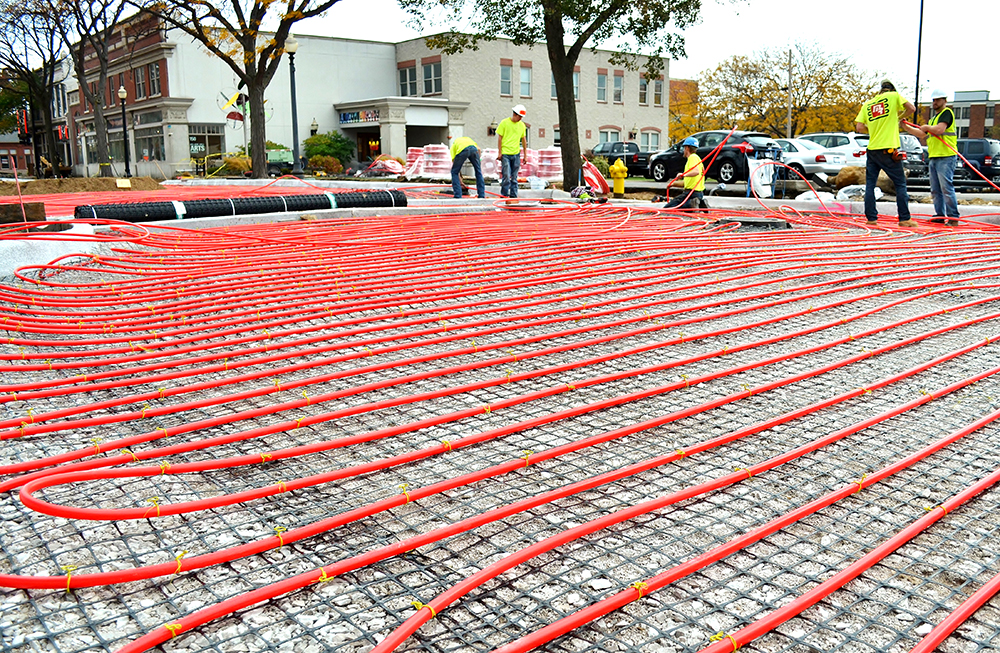 Heating Systems
Tired of bundling up in the winter and shoveling? Think about installing a heated driveway which is also a safer option. The perks of this luxury item are well worth it!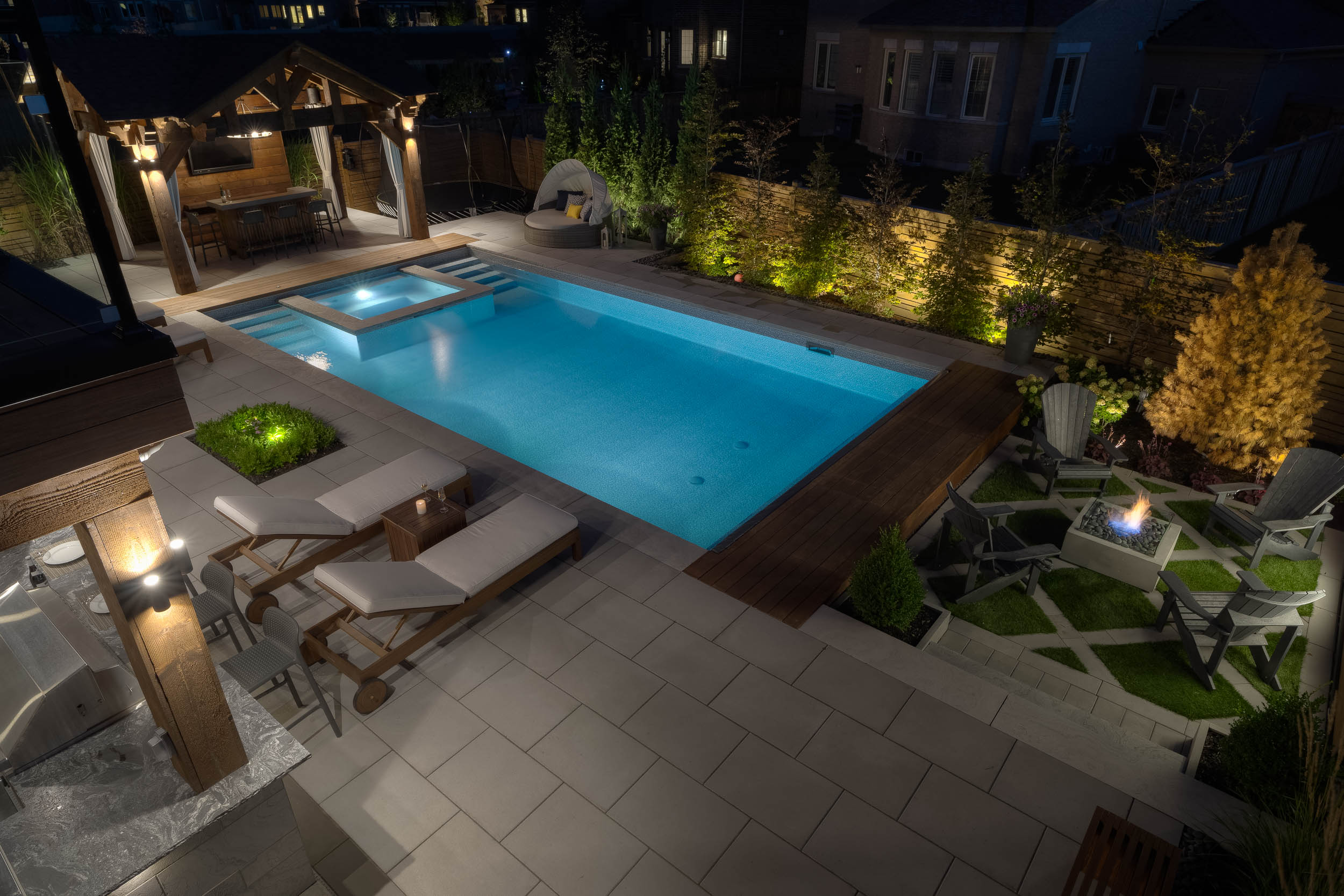 Lighting
Landscape lighting is both functional and beautiful and will transform any outdoor space! With ample lighting, you can enjoy and entertain outdoors at any hour of the day.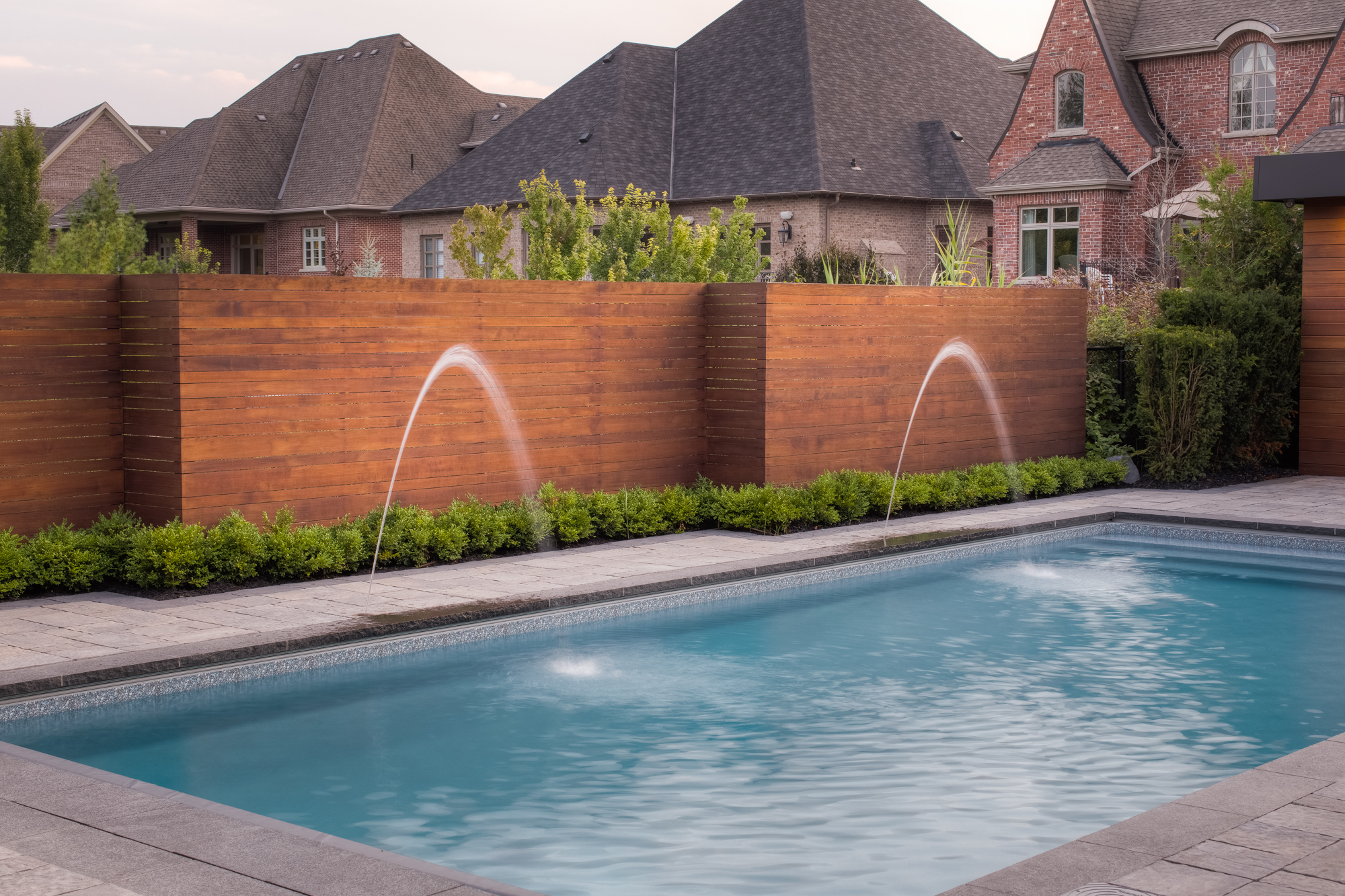 Water & Fire Features
Adding a water or fire feature to your backyard will take it to the next level! From deck jets, to waterfalls, to fire balls, these are all fantastic ways of creating a luxurious dramatic effect!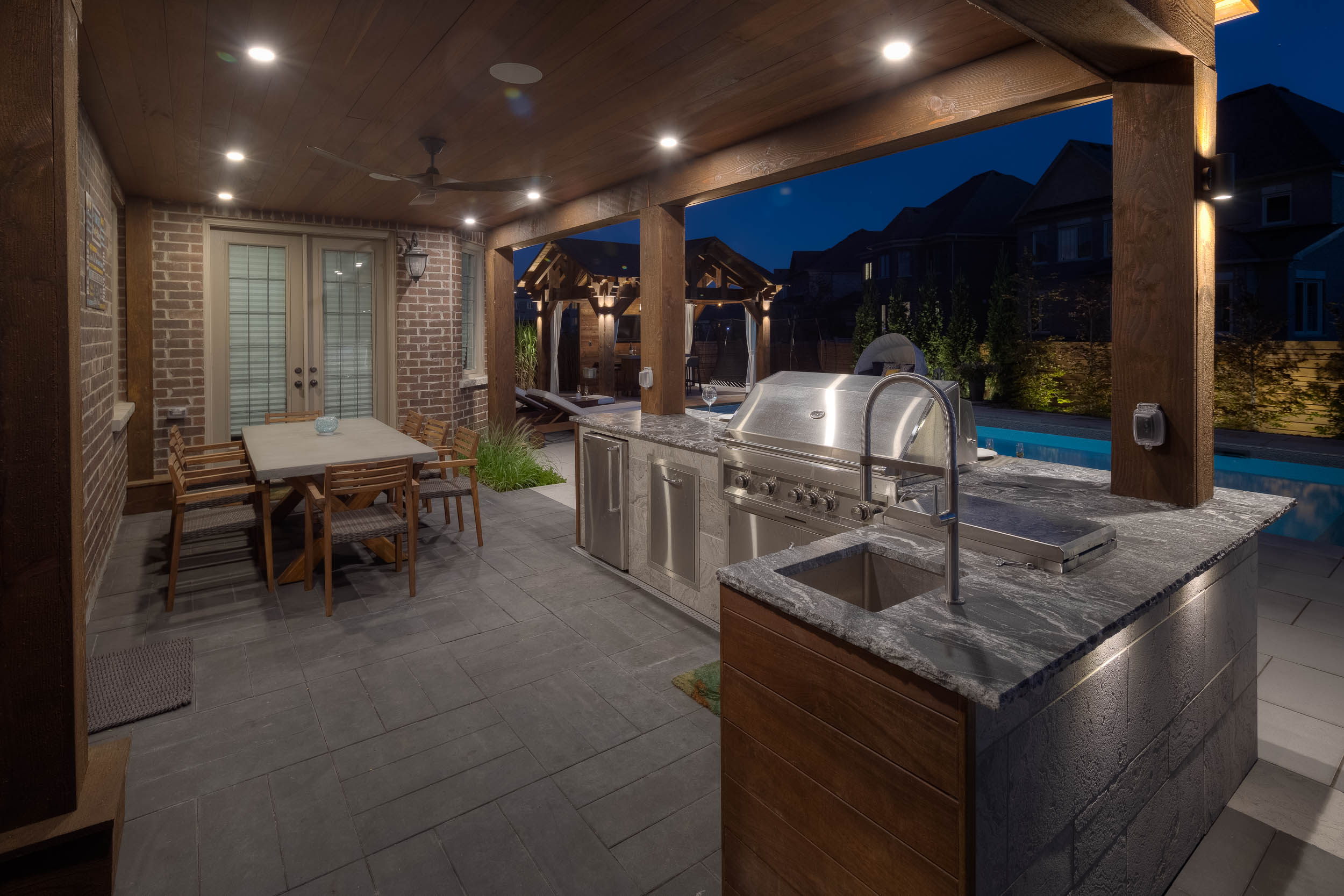 Outdoor Kitchens
Entertain like never before by constructing an outdoor kitchen in your backyard. Take the indoors outdoors and enjoy the benefits of socializing by the grill.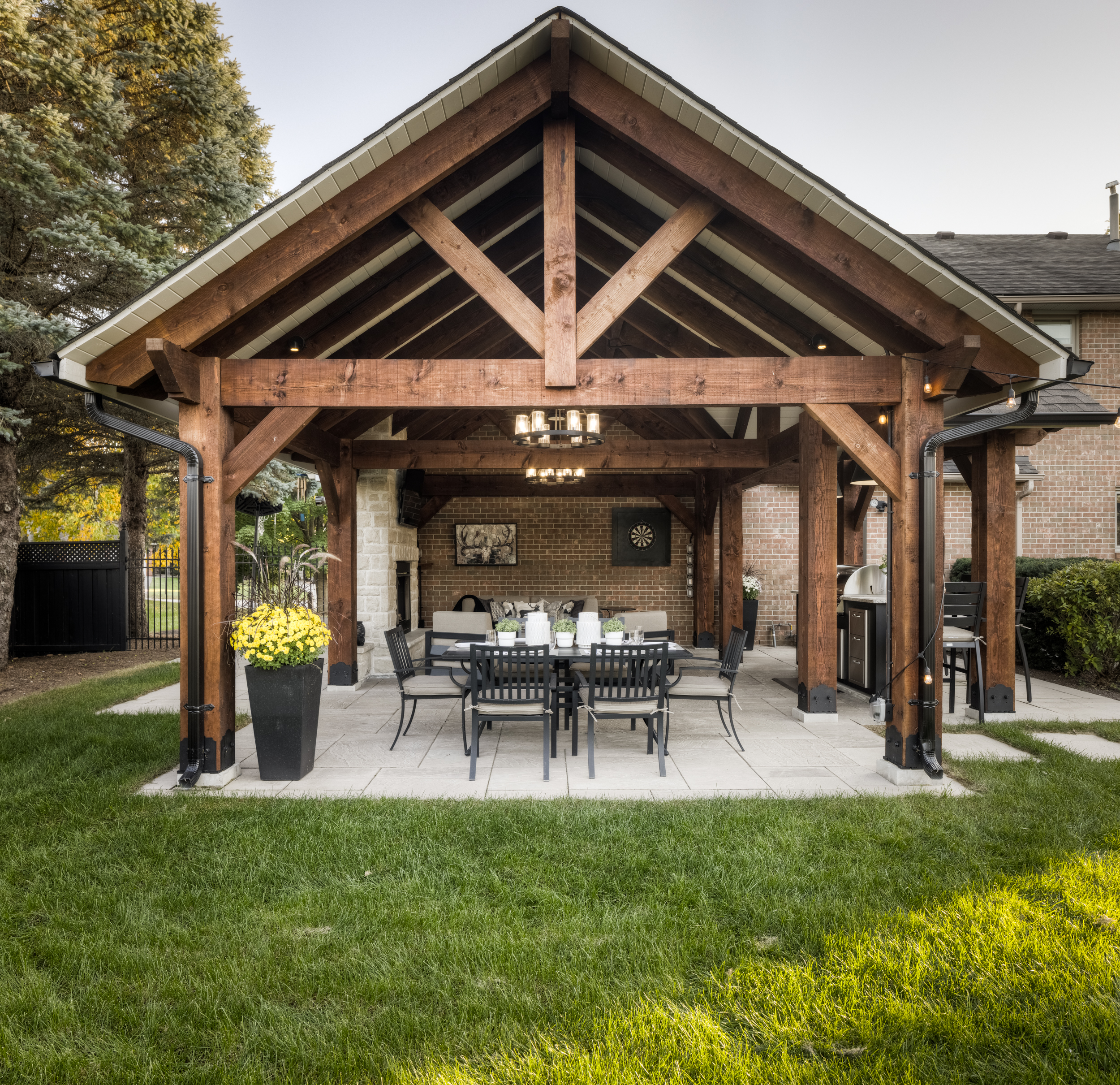 Cabanas & Structures
Adding a feature like a cabana or a pavilion to your backyard will take your outdoor space to a whole new level. A covered structure will allow you to enjoy your backyard no matter the weather. Whether you prefer modern or rustic, adding an outdoor structure will provide continuity to your home and an additional area to gather.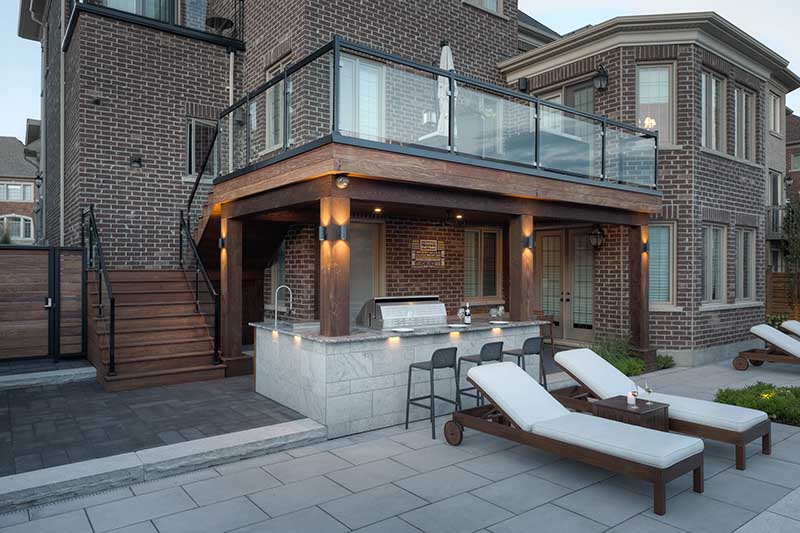 Decks
Building a deck is an excellent way of adding room to your living space. Add a grill and patio furniture and you can enjoy the outdoors all through the summer and into the Fall. There are thousands of unique ways to build a deck and plenty of different materials that we can use to suit your tastes.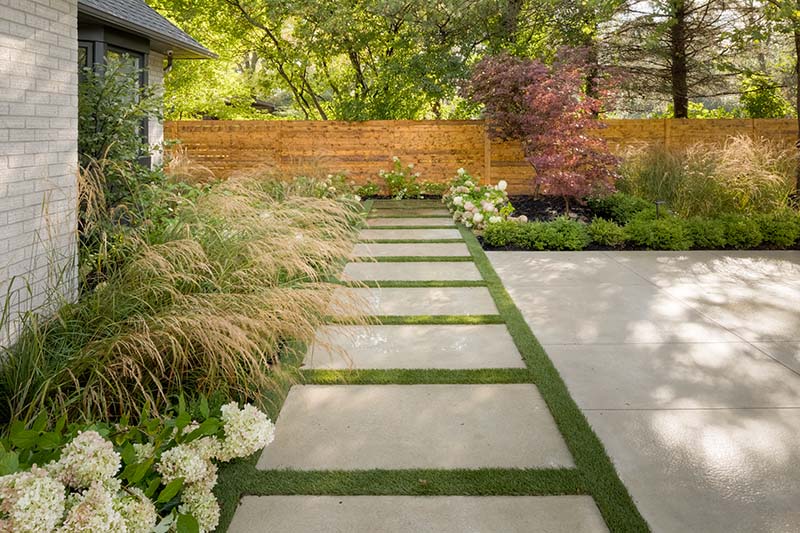 Turf Inlays
Artificial turf is all the rage right now because it mimics the look of real grass, it is low maintenance, does not need watering or fertilizing and it is cost efficient. It's a great option when considering small spaces and or areas that do not get much sun.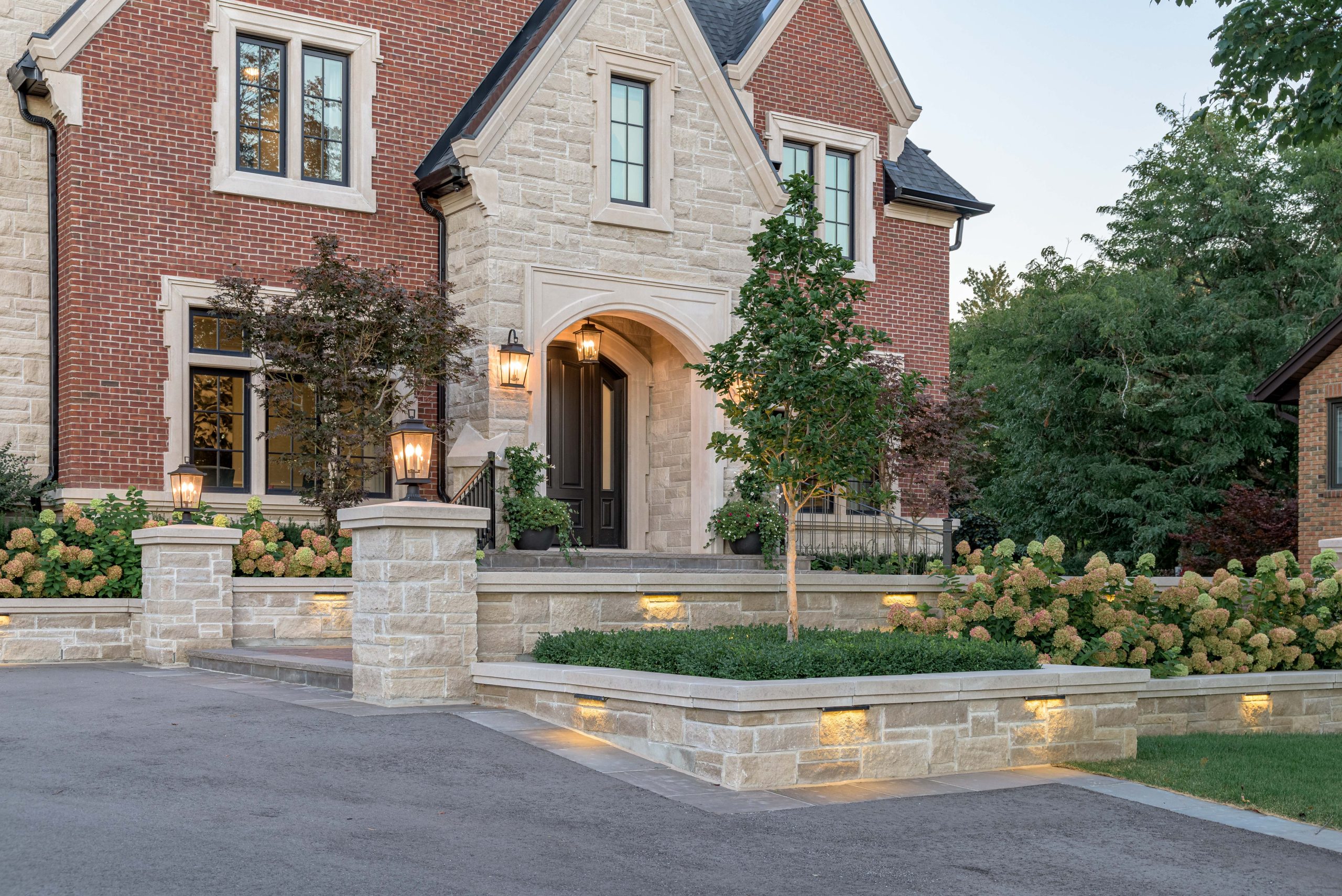 Stonework
NCLC is a full-service stone and masonry landscape construction company. Our expert masonries are trained to work with stone, brick and concrete and are dedicated to their craft.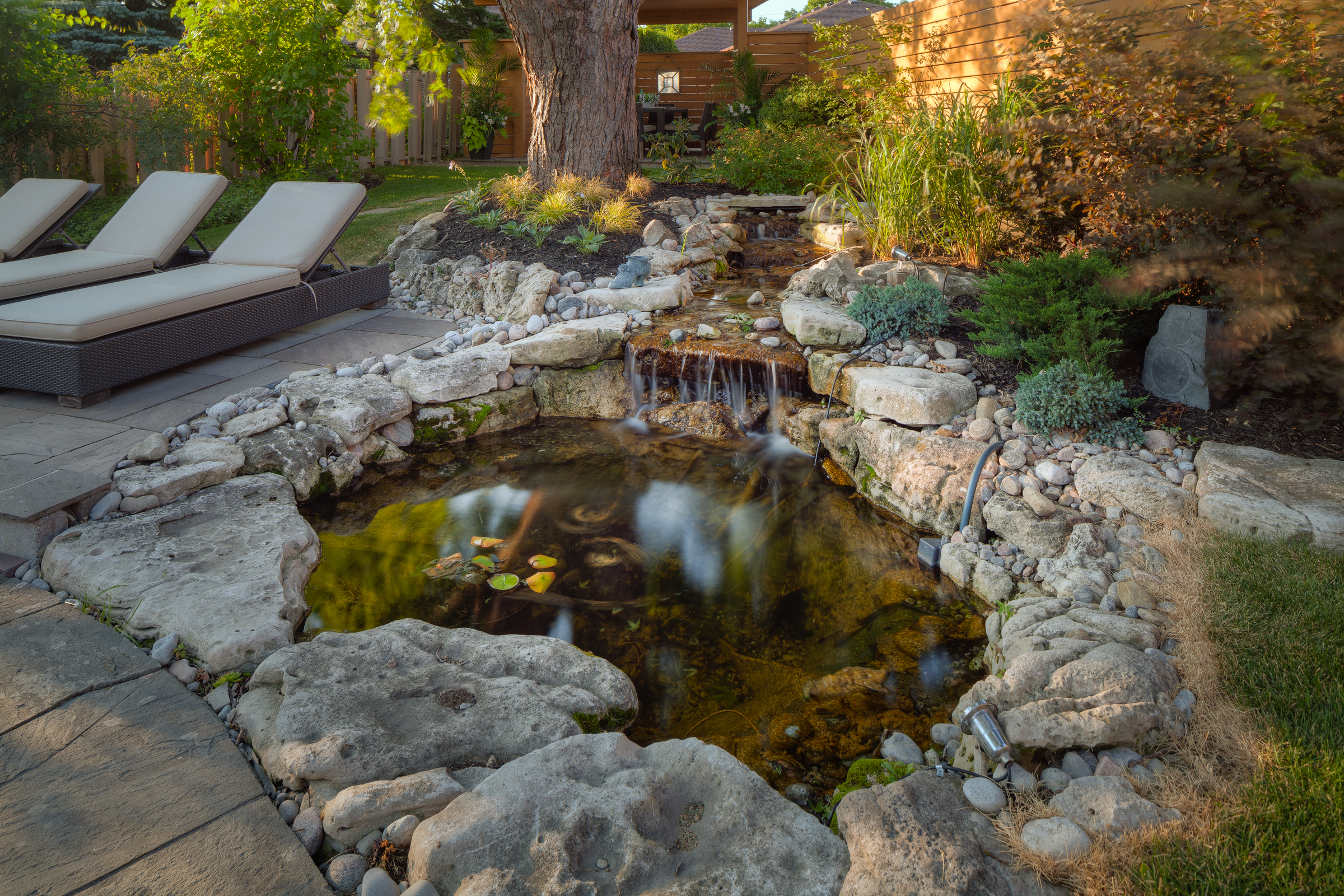 Ponds
A backyard pond will make any boring space breathtaking!
Excellent work, great communication and priced right! Anthony and his crew did an amazing job installing a pool for me. He was very flexible when I asked for changes to be made. He kept me up to date throughout the entire process, giving me sound advice. Price was great for what I received compared to other big name companies (who view you just as a number) and did exactly what was in the contract….and more! Thanks for making this big addition a very positive experience for my family and I….we love it!
Sam
Nobleton (Project Albert Hill)
Some of Our Work
Our distinct portfolios showcase our remarkable projects that demonstrate the breadth and depth of our expertise in all areas of landscape construction and maintenance services. Browse through our collection of stunning landscapes, from residential havens to expansive commercial spaces and witness the artistry and craftsmanship that goes into each project. Get inspired by the creative design concepts, impeccable mindfulness, and seamless integration of hardscape and greenery. Our portfolios are a testament to our commitment to excellence and our ability to bring visions to life.